2-in-1 UV Steriliser & Dryer
New Beginnings 2-in-1 UV Steriliser and Dryer is a versatile and compact unit for drying, sterilising, and storing baby bottles, teats, sippy cups, and accessories. It's ideal for sterilising a wide range of items, including toys, feeding accessories and electronics.
FREQUENTLY ASKED QUESTIONS
FREQUENTLY ASKED QUESTIONS
Can the 2-in-1 UV Steriliser & Dryer fit other brands bottles?
Yes! So long as the dimensions fit within our UV steriliser. We do not know the sizes of other brands bottles so it best to check first to make sure they fit.
Can the UV Steriliser just dry without UV?
Yes, there is a drying setting where you can put freshly washed bottles, teats and dummies inside to dry and then sterilise. You can also place dried items or ones that do not need washing such as electronics inside to simply UV sterilise.
Steam vs UV sterilisation - what is better?
Both steam and UV sterilisers kills 99.99% of bacteria and germs. However UV sterilisers have more functions, such as drying and providing germ-free storage. UV sterilisers can also sterilise other items, such as glasses and electronic devices.
Do baby bottles turn yellow after UV sterilisation?
Yes, some baby bottles may become slightly yellow after ongoing use with a UV steriliser. However this is nothing to worry about and the bottles are still safe to use.
How do I know which steriliser is best for me?
Here at New Beginnings, we understand that choosing the right baby bottle steriliser can be overwhelming. That's why we've created this
baby bottle steriliser guide
!
Does the UV sterilisers come with warranty?
Yes, our UV sterilisers come with a 12 month warranty. So you can always get in touch if something if you need to!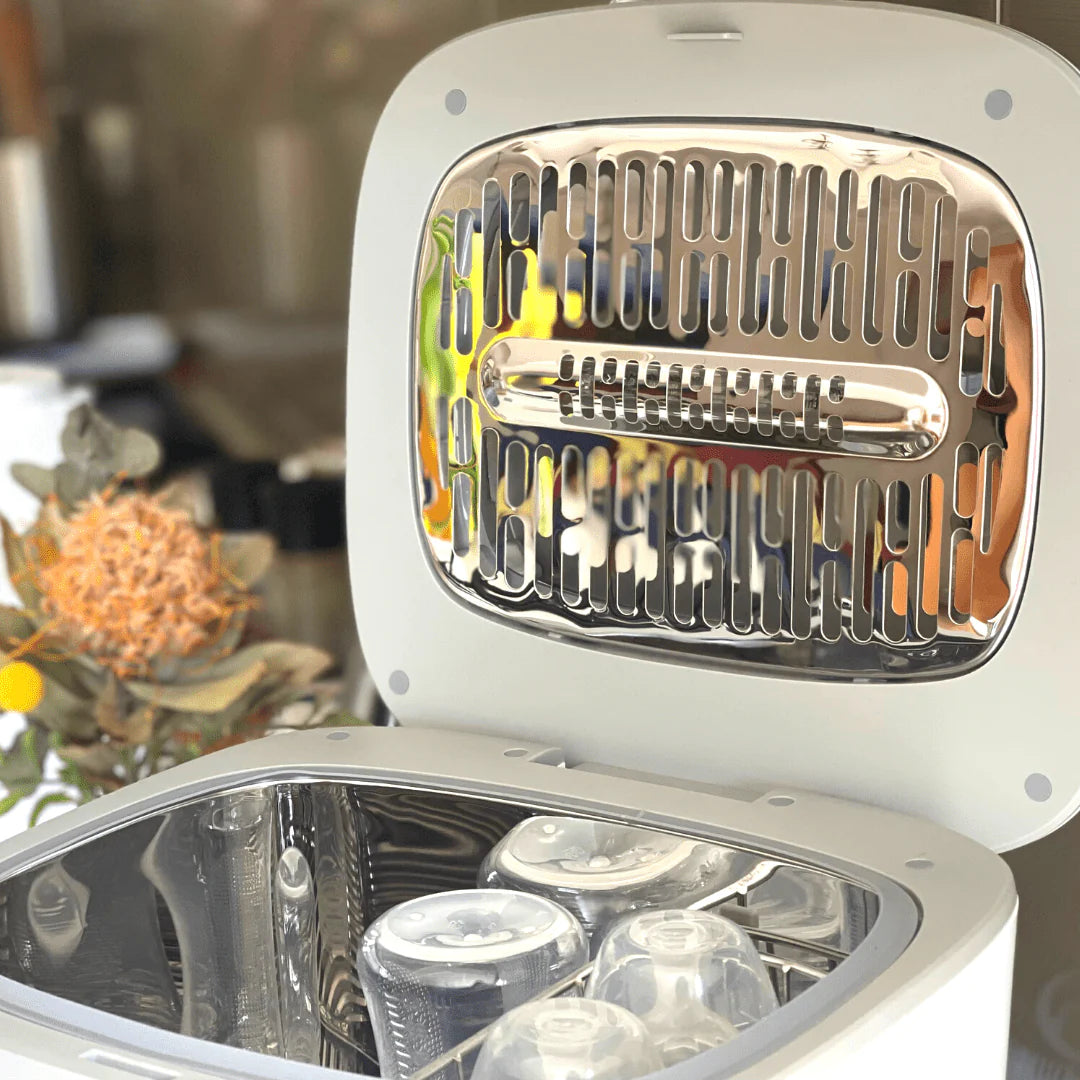 Total 5 star reviews: 29
Total 4 star reviews: 3
Total 3 star reviews: 0
Total 2 star reviews: 0
Total 1 star reviews: 1
This is the best.

So very happy that I bought this product, it makes everything so much easier, could not be without it. So much better than boiling bottles and no risk of burning yourself with hot water. Wish I had of known about this in my previous pregnancy that I had to bottle feed in too.

Easy to use!

Great size, easy to use, and I simply wash, shake off the excess water and pop the items in and they are ready to use again when the cycle is done.

Does the job but...

After 6 months it started to turn off after a couple minutes. Not mode specific.

Changed the filter but no fix.

Ordered a new lamp and replaced it and now waiting for the results. Changing the lamp is an absolute nightmare because of cover. You need to pry it out and it was nearly impossible to put back on without damaging the edges of the steriliser itself.

Please make the product manual easier to access online.

I do not recommend this product

Sadly - don't waste your money

I was soo keen to try this steriliser I already had a Dr browns steriliser but needed a second one for work. Unfortunately, it takes a really long time and doesn't dry the bottles properly and fits half of what the dr browns can fit. I am sad that I wasted my money on this product.

New Beginnings

4 months ago

Hi Coral, thank you for your review. We apologise that you did not have a positive experience with our 2-in-1 UV Steriliser. For further assistance with our products, you can get in touch with our Customer Care team via our website here: https://www.newbeginnings.com.au/pages/contact-us

We really appreciate your support.

Kind Regards, New Beginnings

Great

Easy to set up and use and you can use to sterilize bottles, pumps and toys too.

New Beginnings

1 year ago

Hi Tracy, We are so glad you love your steriliser! Thanks for the feedback. New Beginnings Team x
Reviews Loaded
Reviews Added