Breast Care Hot+Cold Packs (2pk)
The New Beginnings Hot & Cold Packs have been designed to provide both heat and cooling therapy to your breasts during breastfeeding. Reusable, easy to use and easy to clean they encourage expressing, healthy let down as well as preventing engorgement and mastitis.
Hot and cold breast pads are perfect for day-to-day use either alone or in conjunction with a breast pump. They're colour-changing feature makes it easier for tired and busy mums to know when it's time to reheat or put them back in the freezer.
Product Features
Reusable and Eco Friendly
Full 360 Degree coverage
Heat features help milk flow
Chill to reduce pain and swelling caused by oversupply of breastmilk
Colour changes to indicate temperature
Easy to use and clean
Can be used solo or with a breast pump
Instructions*Heat therapy steps:
Heat in microwave for indicated timing
Ensure packs are lying flat when placed in the microwave
Only heat one pack at a time
Once removed from the microwave, test the temperature before applying.
To increase heat, place back into microwave and heat in 5-second increments until the desired temperature has been achieved.

Note: Packs will turn white when hot!
Cold therapy steps:
Place packs in the freezer for a minimum of 2hours before use to chill

Ensure packs are lying flat when placed in the freezer to ensure optimum comfort
Note: Packs will turn purple when cold!
*Full instructions inside.
Specifications
Diameter: 15cm
Center Hole Diameter: 3cm
Weight: 120g

Cleaning and Storage
Before each use of the hot and cold breast pads, clean with detergent, alcohol or soap. After use, store in an airtight plastic bag at room temperature(20-22 degrees celsius), out of direct sunlight, or in a freezer.
Caution
Do NOT heat these breast packs for more than 25 seconds in total. Heating beyond the state time may damage or destroy the Breast Care Hot and Cold Pack. Ensure that the temperature of these breast pads is always tested before skin contact. Do not use these hot and cold breast pads for any time extending over 20 minutes at a time. Failure to comply with this may cause injury. Do not fall asleep with these breast pads on you and do not use them for any additional purposes than what is indicated. These pads are intended for external and adult use only. Do not use on infants and keep out of reach of children. Avoid using these if you have sensitive skin, insensitive (numb) skin, or any open wounds. Use only under adult supervision. Avoid puncturing pack and/or ingesting any contents. Discard immediately if the hot and cold breast pad begins to leak or is punctured. For any extreme and/or chronic pain please contact a healthcare professional for assistance. If symptoms persist, if you have a fever or do not feel well, contact your doctor or see a healthcare professional.
To take some stress out of the process, we offer free returns & exchanges on all our bras! This way, you can try out any size, style or colour to find what works best for you. Visit our returns and exchanges page to begin the process.
Just ensure all original tags are left on and they're in their original condition. Bras that have obviously been worn for an extended period of time, washed or purposely damaged can be not exchanged or returned. 
If you need to return or exchange simply send it back to us in the same package you received it in, with the below address attached. Ensure your order form has been completed and placed back in with your items. 
Tip:
You can post your items back from a post box, however we recommend taking your returns & exchanges to a post office to receive a tracking number.
FREQUENTLY ASKED QUESTIONS
FREQUENTLY ASKED QUESTIONS
When should I use cold breast pads?
Applying cold pads after pumping or breastfeeding sessions can help reduce any residual swelling or discomfort and provide a refreshing sensation.
Are hot and cold breast pads safe during breastfeeding?
Hot and cold breast pads are safe to use during breastfeeding when used properly and following recommended guidelines.
Can hot and cold breast pads help with engorgement?
Yes, hot and cold breast pads can help with engorgement, but in different ways.
1. Hot breast pads: Applying heat to the breasts with hot pads can help increase blood circulation and promote milk flow. This can be beneficial for relieving engorgement and assisting in the emptying of the breasts.
2. Cold breast pads: Cold pads can help reduce swelling and inflammation associated with engorgement.
How do you clean New Beginnings hot and cold breast pads?
To ensure proper hygiene and storage of hot and cold breast pads, follow these steps:
- Clean before use: Before using the hot or cold breast pads, clean them with a suitable cleaning agent such as detergent, alcohol, or soap. This helps maintain their cleanliness and ensures they are ready for use.
- Store in an airtight plastic bag: After each use, it is recommended to store the hot or cold breast pads in an airtight plastic bag. This helps protect them from dirt, dust, and contaminants, ensuring they remain clean and hygienic.
- Store at room temperature: Keep the stored breast pads at room temperature, ideally between 20-22 degrees. Avoid extreme temperatures that could affect the integrity or effectiveness of the breast pads.
- Protect from sunlight: Store the breast pads away from direct sunlight, as exposure to sunlight may degrade their materials or affect their performance.
When should I use hot breast pads?
Hot breast pads can be used to provide comfort and promote milk flow.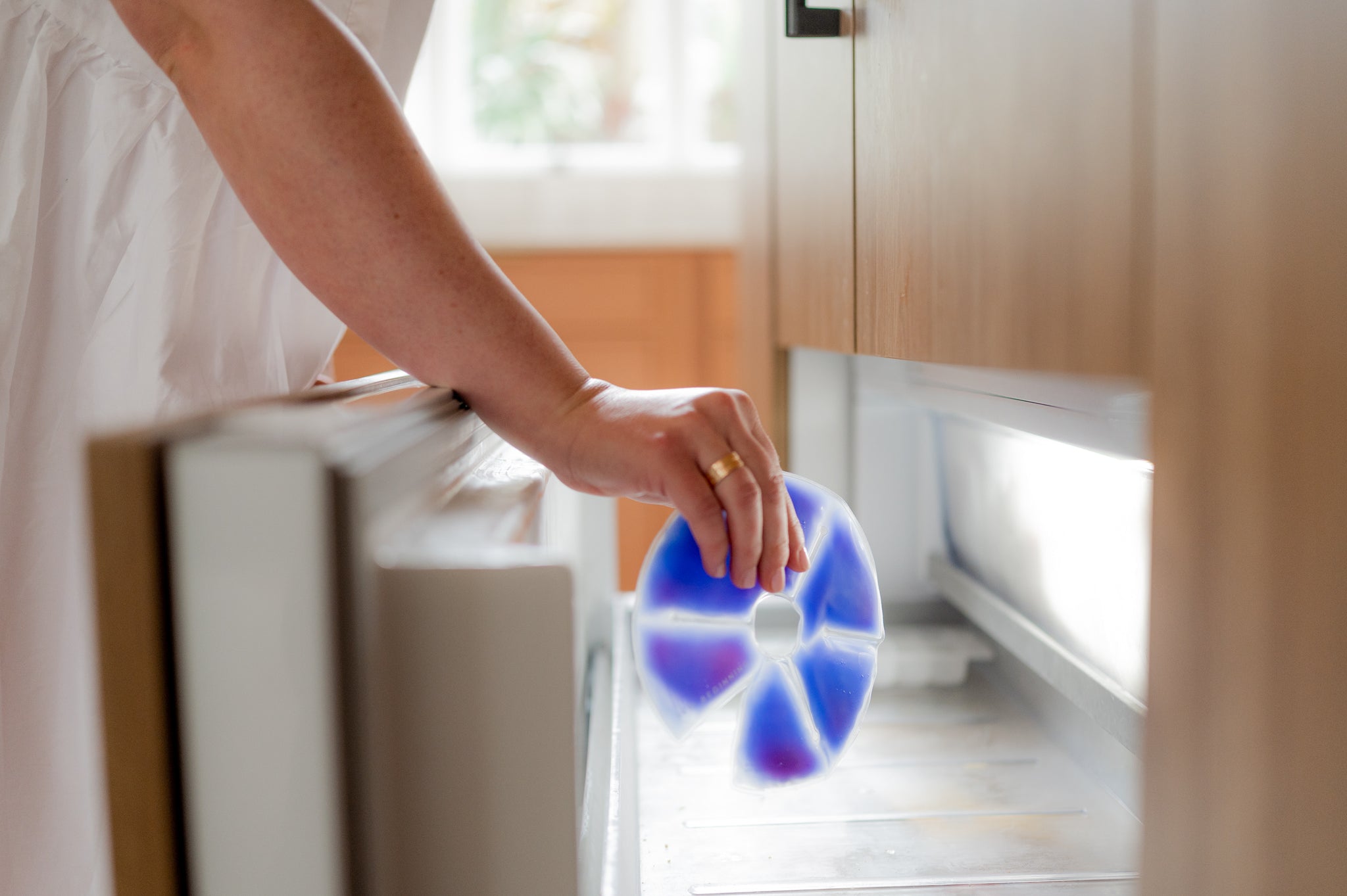 Total 5 star reviews: 1
Total 4 star reviews: 0
Total 3 star reviews: 0
Total 2 star reviews: 0
Total 1 star reviews: 0
Breast feeding essential !

Being a first time mum everything is so new.

When I started to feel my breasts becoming sore just before my milk coming in, I used these hot and cold packs (heat) to help support the easing of pain and the flow.

They were so easy to use, placing in the microwave, and the relief was beautiful.

I recommend having one pack for heat always, and then keeping one pack in the freezer. You can't have enough packs really! They are amazing !
Reviews Loaded
Reviews Added