Diamond Maternity Bra
Our wire-free frame, seamless soft cups and high quality microfibre material deliver comfort that is undeniable!
The drop down clasps allow for easy one-handed use while maintaining support as you breastfeed.
FREQUENTLY ASKED QUESTIONS
FREQUENTLY ASKED QUESTIONS
Do I need a maternity bra?
If you don't usually wear a bra, or your bras are uncomfortable (let's be real, what bras arent?), or has unwire - you should definitely look into getting a maternity bra!

As your milk comes in and your body is changing you will find you're reaching for anything to provide more comfort and support. That's where a maternity bra comes in.
When should I get a maternity bra?
When you're pregnant your body is getting ready for bub to come into the world, which means that you will naturally start to produce milk. As this happens you will notice your boobs will start to change in size. As soon as you notice this change you're ready for a maternity bra - This is typically after your first trimester.

Remember though, everybody's journey is different! Just because your mum or your friend started wearing a maternity bra at a certain time, does not mean you will be the exact same. Don't stress mama :)
Why shouldn't I wear underwire?
Underwire in bras are not only uncomfortable, but they can be damaging while your body is producing milk. Adding unnecessary pressure to your boobs can lead to blocked milk ducts or mastitis which can be very painful.
What maternity bra is right for me?
Now this question is a bit harder to answer - every single person is unique!

To make it a little easier, here are our suggestions:

Smaller busted mamas:

We find a lot of our smaller busted mamas opt for our Diamond Breastfeeding Bra, Active Maternity Bra or Transition Bra. These are great options as they offer the support you need while being comfortable. Especially for those of you who don't usually wear a bra.

Bigger busted mamas:

Finding a bra when you have a fuller bust can be so hard, let alone when you're pregnant. We find that the Diamond Breastfeeding Bra and the Everyday Maternity Bra are the best options. The Diamond Breastfeeding Bra is your more traditional bra style and cut, available in plus (+) sizing options as well. Our Everyday Maternity Bra offers a higher cut, which provides more support and coverage when needed.
How does the plus (+) range work?
Our plus(+) range is currently only available in the Diamond Breastfeeding Bra style.

The plus(+) style provides more coverage in the cups for those who are fuller chested without compromising on the brand size. This range is also good for those who may be a smaller build, but have a fuller chest.

We are currently working to include some plus(+) sizes in our Everyday Maternity Bra style!
What size maternity bra should I get?
We base our maternity bra sizing on what size you wore pre-pregnancy.
For those who are between sizes we recommend trying the size you usually wear and a size up. This will allow you to see if you prefer a looser or tighter fit maternity bra. Every mum is different, so we suggest seeing what works best for you.
E.g. If you're usually a 14DDD, you could try either the XL Diamond Bra, XL Everyday Maternity Bra or the S+ Diamond Bra!
If you're a bit overwhelmed or confused, discover our
maternity bra shopping guide
.
What is UGrow™ Technology?
UGrow™ is the result of a collaborative effort with a Danish medical fabrics manufacturer, where prioritizing comfort and support was absolutely critical in crafting the perfect product. Our secret weapon is the unique fabric weave that makes these bras stand out. This means your bra will grow as you do, providing a supremely comfortable fit from pregnancy to breastfeeding and beyond.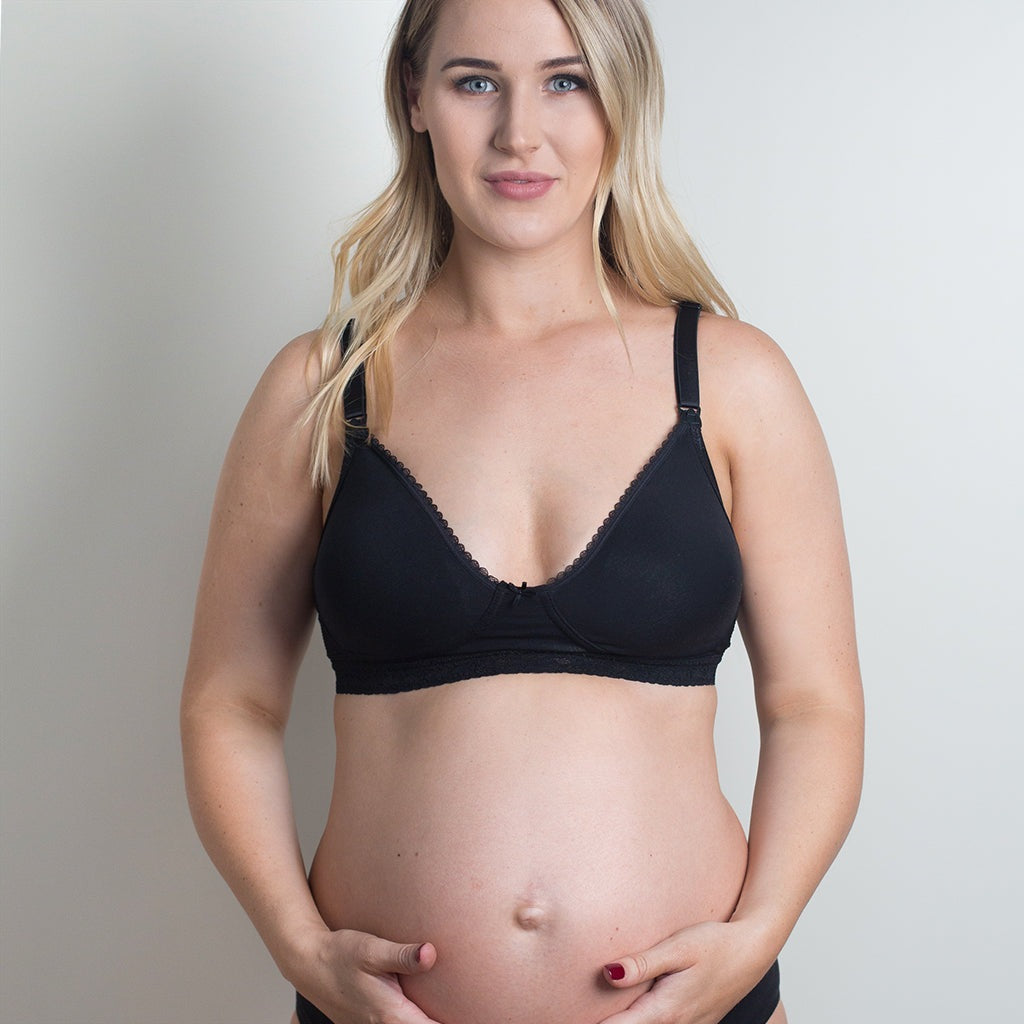 Total 5 star reviews: 50
Total 4 star reviews: 9
Total 3 star reviews: 4
Total 2 star reviews: 0
Total 1 star reviews: 0
Kristen S.

Verified Buyer

Sizing & fit is a bit odd

The description doesn't match the product. Cups are weirdly positioned and the band isn't comfortable. Even following the size chart, product didn't fit as described. I ended up returning the unworn ones

Overall great, sizing off

Overall great. Had issues with sizing but sent back and exchanged for bigger size with no hassle.

Strange Sizing

Love the bras, they are super comfy and practical! I bought the same size in three different colours but they all measure and fit differently which I found a bit odd. Black fits quite tight on me, Beige is a little bigger and White was the largest (and included two extra band settings).

Loved this bra!

I love that it fits very nicely, has a nice touch, its not uggly and it fits the purpose.

This has been my everyday bra now during pregnancy

Stephanie W.

Verified Buyer

Love this bra

I love this bra so much. I've worn it (in all the colours!) 24/7 during both pregnancy and postpartum now breastfeeding and love it. So comfy, washes really well and cute too!
Reviews Loaded
Reviews Added