Pregnancy Crop Top Bra
With a cotton/elastin blended fabric, the bra will feel appropriately snug with light, gentle support. It is ideal for sleeping and use from the early stages of pregnancy, right through to the stages of breastfeeding.
FREQUENTLY ASKED QUESTIONS
FREQUENTLY ASKED QUESTIONS
What's the difference between a pregnancy crop top and a maternity bra?
While the pregnancy crop top offers expandable sizes, like a regular maternity bra, it doesn't include the fold-down clip for breastfeeding.
When should I get a maternity bra?
When you're pregnant your body is getting ready for bub to come into the world, which means that you will naturally start to produce milk. As this happens you will notice your boobs will start to change in size. As soon as you notice this change you're ready for a maternity bra - This is typically after your first trimester.

Remember though, everybody's journey is different! Just because your mum or your friend started wearing a maternity bra at a certain time, does not mean you will be the exact same. Don't stress mama :)
How do I know which maternity bra is right for me?
Finding the right maternity bra can be challenging. But don't fear, we've created this super simple
maternity bra guide
to help!
Do I really need a maternity bra?
If you don't usually wear a bra, or your bras are uncomfortable (let's be real, what bras arent?), or has unwire - you should definitely look into getting a maternity bra!

As your milk comes in and your body is changing you will find you're reaching for anything to provide more comfort and support. That's where a maternity bra comes in.

Why shouldn't I wear an underwire whilst breastfeeding?
Underwire in bras are not only uncomfortable, but they can be damaging while your body is producing milk. Adding unnecessary pressure to your boobs can lead to blocked milk ducts or mastitis which can be very painful.
Now this question is a bit harder to answer - every single person is unique!
To make it a little easier, here are our suggestions:
Smaller busted mamas:
We find a lot of our smaller busted mamas opt for our Diamond Breastfeeding Bra, Active Maternity Bra or Transition Maternity Bra. These are great options as they offer the support you need while being comfortable. Especially for those of you who don't usually wear a bra.
Bigger busted mamas:
Finding a maternity bra when you have a fuller bust can be so hard, let alone when you're pregnant. We find that the Diamond Breastfeeding Bra and the Everyday Maternity Bra are the best options. The
Diamond Breastfeeding Bra
is your more traditional bra style and cut, available in plus (+) sizing options as well. Our Everyday Maternity Bra offers a higher cut, which provides more support and coverage when needed.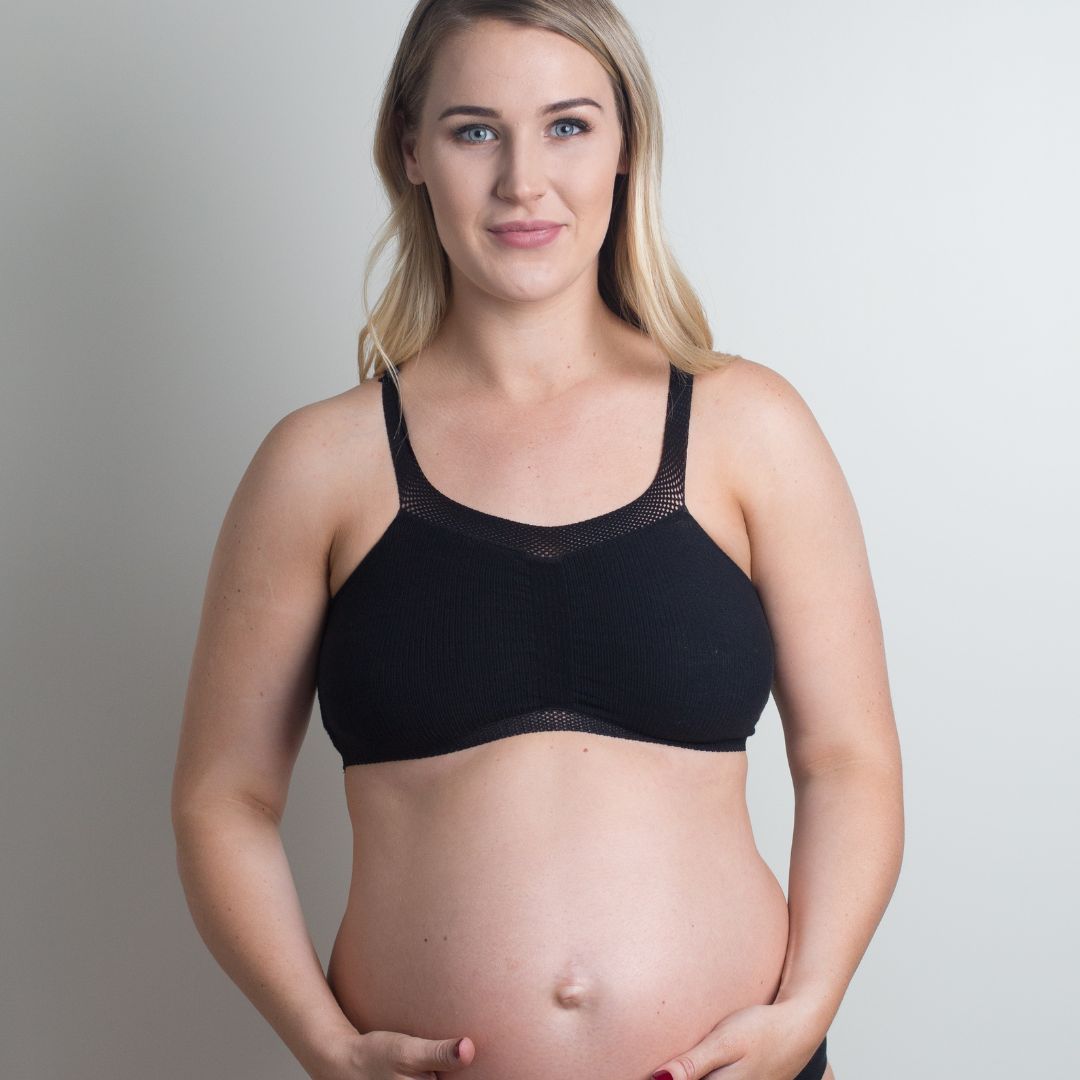 Total 5 star reviews: 16
Total 4 star reviews: 4
Total 3 star reviews: 1
Total 2 star reviews: 0
Total 1 star reviews: 1
Soft and comfy

These are soft and comfy but not what I was expecting. Little to no support (for very large chested women like myself) and while they are awesome for comfort and feeding bub they are completely see through so I can't wear just them around like I hoped to. Also my wearable breast pumps don't stay in well with them 🙁 I wouldn't purchase this style again but I will still get some use out of the two I purchased.

I do not recommend this product

Poor quality

This is a very poor quality bra. Transparent, thin and there is not support whatsoever. Its like if you are wearing nothing.

New Beginnings

3 months ago

Hi Thays, thank you for your review. We apologise that you did not have a positive experience with our Pregnancy Crop Top Bra. For further assistance with our products, you can get in touch with our Customer Care team via our website here: https://www.newbeginnings.com.au/pages/contact-us

We really appreciate your support."

Gabrielle A.

Verified Buyer

Great lightweight crop top

Very comfortable to sleep in

Amazing!

I am amazed at this bra! I am a size 12G and its so so so hard trying to find something firstly that fits in my size and secondly but most important, something comfortable. Im not a big fan of buying bras online, but I took a gamble and glad I did. Because I did the 3 for the price of 2 deal and I have been wearing them everyday!! They are especially great for bed, slight support for comfortable side sleeping. Will buy again thank you.

New Beginnings

3 years ago

Hi Noeleen, thank you so much for this lovely review! We're so glad you're loving our bras :)
Reviews Loaded
Reviews Added