Double Electric Breast Pump
For busy mums who value every moment, meet your perfect match: the Double Electric Breast Pump. Packed with advanced LacTech™ micro-computer technology, it's twice as fast and boasts convenient USB rechargeability. Time-saving, efficiency at its finest.
FREQUENTLY ASKED QUESTIONS
FREQUENTLY ASKED QUESTIONS
What is LacTech™ technology?
LacTech™ technology is a pioneering advancement in breast pump technology. It utilises a superior micro-processing technology to mimic a baby's natural suckling motion, maintaining a gentle dual phase system. This gentle yet highly effective system ensures the efficient expression of milk, providing a comfortable and efficient breastfeeding experience for mothers.
How often should I be pumping?
If you're unable to feed your baby, we recommend using a breast pump as often as your baby feeds. This will ensure you continue to produce the right amount of milk for your little one.
Do I need a single or double breast pump?
A single electric breast pump is perfect if you're expressing occasionally while breastfeeding. Whereas a double breast pump is perfect for busy mums who require expressed milk more often.
How do I clean an electric breast pump?
We don't recommend placing any parts of your breast pump in the dishwasher as all machines have varied temperatures and modes. Cleaning your breast pump with hot, soaping water and rinsing in fresh hot water after is the best way to ensure all parts of being cleaned correctly. We also suggest that each part of your breast pump is left to air dry rather than wiping them down to avoid spreading germs or pulling at the plastic.
How do I know which breast pump is right for me?
Here at New Beginnings, we understand that choosing the right breast pump can be overwhelming. That's why we've created this
breast pump shopping guide
!
Are New Beginnings breast pumps recommended by mums?
Yes! According to mouthsofmums, 9/10 mums recommend New Beginnings electric breast pumps.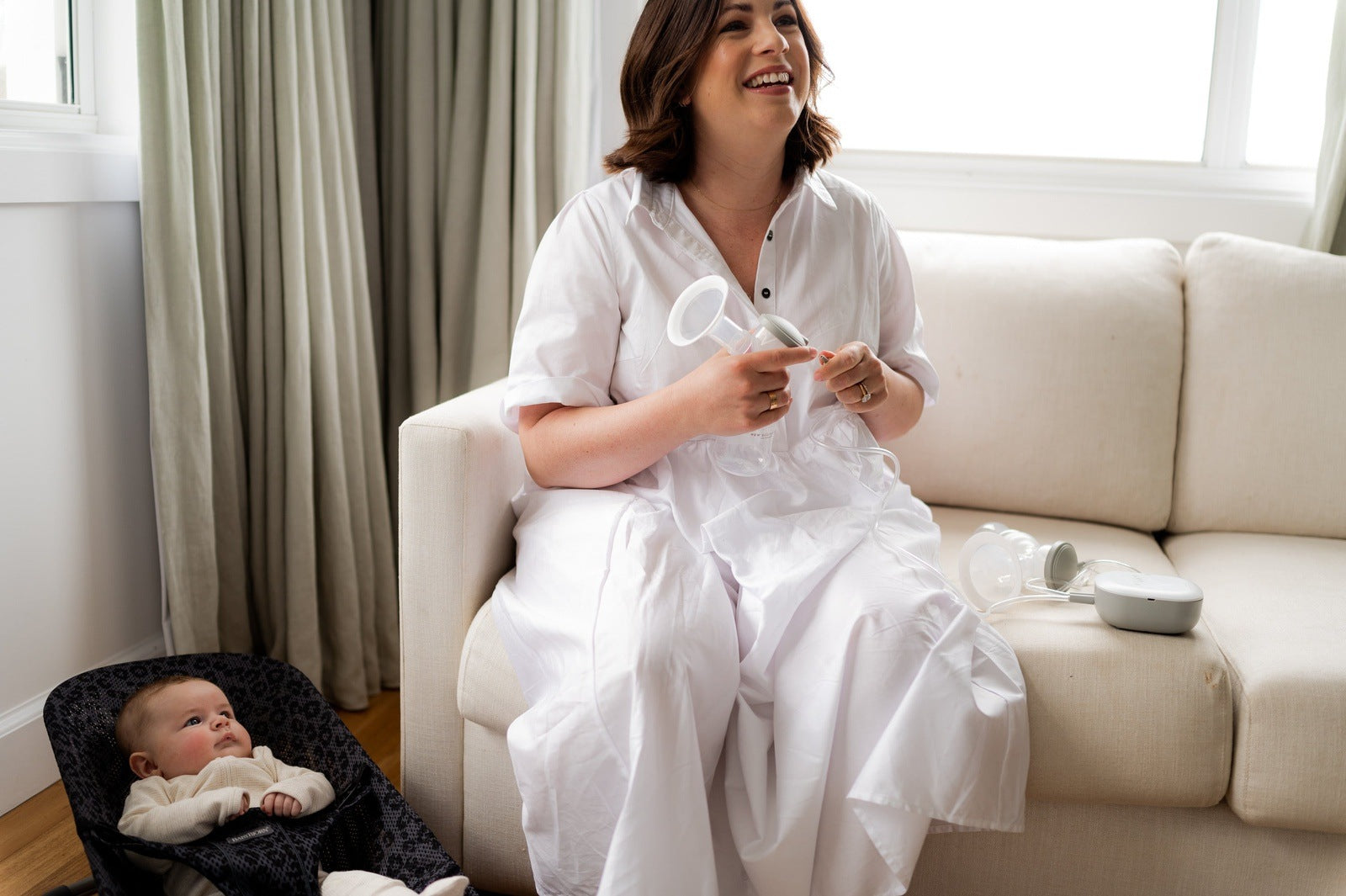 Total 5 star reviews: 11
Total 4 star reviews: 8
Total 3 star reviews: 0
Total 2 star reviews: 0
Total 1 star reviews: 0
Absolutely love my double pump and I bet you will too

After having a single tommee tippee pump I needed to change to a double and although I didn't find many reviews I decided to give this one a try. And let me tel you it did not disappoint. It has helped me boost my supply and pump for effectively and efficiently. Super comfortable and I love that it has the stimulation settings (5 levels) and the pumping settings (9 levels).

It is also so much quieter than my previous pump. As soon as I started using this pump I knew I had to write reviews to help other people make the good choice I did on getting this pump

New Beginnings

2 years ago

Hi Emma! Thanks so much for your words, we're so glad you've loving your new pump :)

Great breast pump

As a first time mum, I was overwhelmed with the different kind of breast pumps available in the market. The top brands were offering a variety of breast pumps which made it harder to decide and most were beyond my budget. I visited the PBC expo Melbourne and stumbled upon New Beginnings. Honestly it was almost "love at first sight", I was attracted to the simple and pretty design. The ambassadors totally nailed the deal by introducing the brand and breast pump with such passion. I was even more sold knowing it was a local brand with mums in mind. Not to mention that the price is also very reasonable. I have been using the pump for 6 months now and love how comfortable I feel with every pumping session. Had an issue with the motor but it was quickly resolved by the New Beginnings team, top notch customer service I'd say! Thank you New Beginnings to making me a happy mum! Keep up the good work.

New Beginnings

2 years ago

Hi Jessica, thank you so much for your feedback, we could not be happier that you're enjoying our products. We love to hear you're so happy and comfortable pumping - this is so important to us! xxx

Efficient, comfortable, quiet and so easy!

I would definitely recommend the New Beginnings Breast Pump to anyone and everyone!! It was sooo easy!!! I was able to connect it all up and because it was so quiet, I was able to express while sitting there watching tv. The different levels of stimulation and suction were great as I was able to customise it depending on when I expressed (whether it was close after breastfeeding or much later). I loved the function of the time as I was able to gain an idea of how long it would take me to express a certain amount of milk. I also loved that it was a double as I could express a large amount of milk in very little time! The New Beginnings Breast Pump was also very easy to clean and reassemble afterwards. The stands for the bottles were also very handy as it meant no spilt milk! ???? I loved everything about the New Beginnings Breast Pump and I found it to be no comparison to another manual breast pump I have previously used. I would hands down recommend New Beginnings as my first choice electric breast pump!

Portable

So when I first tried this breast pump, I didn't realise the battery was rechargeable so I had it plugged into my laptop whilst I sat there pumping, once I knew that I moved myself outside where I could let my other child play outside whilst keeping my ears open to the younger one. It was nice being outside in the sunshine, I almost go crazy from being indoors.I still haven't worked out how to use the stand though. It still doesn't click in.

Great design for pumping on the go

At some point in almost every breastfeeding mums journey you will find youself wanting or needing to pump milk. For the last 3 weeks my littlest man has been ill and losing weight which is concerning as he's only 6 weeks old. I've needed to express so that I could monitor how much he was drinking and to give him a bit of a rest by drinking from a bottle and letting the pump do the hard work on the boob instead. All of this has meant my New Beginnings double electric breast pump has received quite a work out. I love that it is a complete kit and comes with the pump plus all the bottles and teats you need. The only thing that would make it more perfect would be if it came with a travel case.Upon unboxing I had a moment of thinking the pump was missing it's most important part, the motor! However I soon found it and was amazed at how tiny it was! Assembly was really simple and I was soon set up ready to go. I love that the pump is battery operated with an easy to use USB recharging cable. I started the pump in stimulation mode as instructed. I gradually moved up the suction levels. Unfortunately this mode stops at level 5 suction which was still a little to gentle to initiate my let down. I decided to try the extraction mode and very quickly the milk started to flow. So don't despair if the stimulation mode isn't strong enough for you because the extraction mode goes up to level 9 which will give even the most vigorous feeding baby a run for it's money. Once I got the best…
Reviews Loaded
Reviews Added